Nuat Thai Massage
Strengthens your ability to heal and invigorates your immune system.
Loosens tightened muscles and cramps.
Brings you back in balance, centers the body, mind and spirit.
Traditional Nuat Thai Massage is a part of Traditional Thai Medicine (TTM) and is a pressure point massage. During the massage, you wear comfortable clothing and may lay on a massage table or, more traditionally, on a large mat directly on the floor.
From head to toe, the ten energy lines of the body (Sen Sib) are stimulated during the massage. When practiced regularly, Nuat Thai functions as preventative medicine and may be very helpful with urgent discomforts. Nuat Thai is firmly established in everyday Thai culture and training is traditionally passed down in the family or can be studied at the Wat (temple). The Traditional Nuat Thai Massage includes more than 160 different steps. Some of them got integrated into the modern western massages like fascia massage, deep tissue massage and trigger point massage.
Not only does Nuat Thai promote general health and strengthens your own healing power, but it can also help the following problems:
Headaches and migranes
Back pain
Chronic pain
Tightened muscles and cramps
Medically unexplained physical symptoms (MUPS)
Nervousness, unrest and insomnia
Hyperactivity
High blood pressure, low blood pressure
Stress, overwork, symptoms of burnout
Tinnitus (ringing in the ears)
Weak immune system
Low levels of energy
Mood swings
and much more
Prices
Traditional Nuat Thai Massage
We accept cash only.
SENSIB Customer Card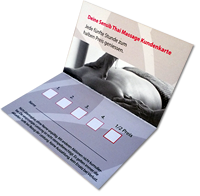 Take advantage of our personal customer card and receive a 10% discount on massages. Pay four hours at the standard rate and receive the fifth hour for half-price.
Useful Thai expressions
Nuat (or nuad) means massage.
Sen means line or path.
Sib means the number ten.
Sen Sib (เส้นสิบ) describes the approach to the ten energy lines of TTM.
Please note
The various parts of the Traditional Thai Medicine TTM like the art of traditional Thai massage are complementary, holistic methods. They should not replace a visit to your family doctor for obvious health disorders.