Traditional Thai Herbal Compress Massage
This traditional massage with warm Thai herbal compresses is an extremely pleasant and relaxing massage. The herbs are blended according to traditional recipes and contain a mix of exotic ingredients from Thailand's herbal gardens. Hot compresses promote relaxation while soothing aching muscle and stiff joints. Since the motions are very gentle, it can be more appropriate for parts of the body that are too tender or sore for hand massage.
Herbal Massage is known for its deep healing properties, improving blood circulation and stimulating the internal organs. You feel revived and the warmth makes this massage a heavenly experience that you'll enjoy for hours afterwards.
Prices
Traditional Thai Herbal Compress Massage
60 minutes CHF 140
We accept cash only.
SENSIB Customer Card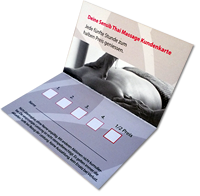 Take advantage of our personal customer card and receive a 10% discount on massages. Pay four hours at the standard rate and receive the fifth hour for half-price.