Thai Medical Massage
Alleviates acute health discomforts
Intensive localized treatment
Traditional Thai Medical Massage concentrates on acute health discomforts and helps alleviate pain. The massage follows the energy lines of the body and is primarily an intensive pressure point massage. As needed, Traditional Thai Medicine oils and salves can be applied for further benefits.
The massage is adapted to your personal needs and wishes. Traditionally, the massage is done with you either sitting or laying down on a large mat on the floor. You should wear comfortable, loose-fitting clothing.
The following discomforts may be effectively alleviated with Thai Medical Massage:
Severe headaches and migranes
Office and smartphone syndrome
Neck and shoulder pain (tension in shoulders)
Upper back pain and tension
Lower back pain (typical backache)
Pain in the hips and upper thigh area
Knee pain
Chronic pain
Regeneration following sprains and pulled ligaments (typical sport injuries)
Prices
Thai Medical Massage
We accept cash only.
SENSIB Customer Card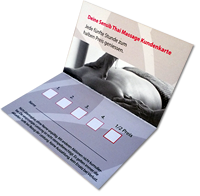 Take advantage of our personal customer card and receive a 10% discount on massages. Pay four hours at the standard rate and receive the fifth hour for half-price.
Please note
The various parts of the Traditional Thai Medicine TTM like the art of traditional Thai massage are complementary, holistic methods. They should not replace a visit to your family doctor for obvious health disorders.