Thai Oil Massage‬
Eases tension and balances the body and the mind.
Brings you back to your personal level of comfort.
Enables the production of corresponding messenger substances (hormones).
Thai massage with oil is a wellness variation on the Nuat Thai massage and is performed directly on the skin. There is no contact with any intimate areas of the body and these remain covered. The same energy lines stimulated in Nuat Thai massage are massaged, but they are spread out more laterally than downwards pressure. The Thai oil massage is very relaxing, brings you in balance and is easily tolerated by all types of clients. You may either lay on a massage table or, more traditionally, on a large mat directly on the floor.
The oil nourishes and sooths your skin and makes it feel pleasantly soft and smooth. When supplemented with specially selected essential aromatherapy oils, further effects can be achieved. The massage is a restful and relaxing experience.
Not only a general well-being and balance can be obtained, but Thai Oil Massage can also help you with the following problems:
Headaches, migraines
Muscle tension
Nervousness, restlessness, insomnia
Hyperactivity
High blood pressure, low blood pressure
Stress, overwork, symptoms of burnout
Low levels of energy and much more.
Prices
Thai Oil Massage
Surcharge for 100% pure Jojoba oil CHF 10
We accept cash only.
SENSIB Customer Card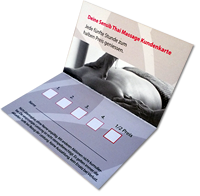 Take advantage of our personal customer card and receive a 10% discount on massages. Pay four hours at the standard rate and receive the fifth hour for half-price.
The Quality of Oils
I use only best vegetable oils without admixture or mineral oils. Pure thai coconut oil that has plenty of fantastic active ingredients as well as pure jojoba oil, which is chemically not an oil but a wax and is already in liquid form at room temperature. Upon request I will gladly tell you more about the specific characteristics, the caring and health properties of these oils.